Examining the mining sector in Ghana tracing it from it the beginning of the sector to now
 "highlighting the state of the mining sector in Ghana now. Looking at how the mining sector has changed in terms of governance and how the sector is dealing with new Challenges. Future of the mining sector is also analyzed "
Ghana has a history of Mining
Ghana's mining sector pre-dates the colonial era. Historically, Ghana was known as the Gold Coast, Ghanaians looked for gold with pickaxes, shovels, and pans. They washed or "panned" for gold along river banks or dug holes on the surface to find deposits of gold dust and nuggets. Prior to 1983, most Ghanaian mining production was state owned, but since the Economic Recovery Program, Ghana has attracted foreign investments and pushed towards privatization and state divestiture. The sector is now largely foreign owned, but the Government of Ghana still holds a minority (10 per cent) free carried interest in most of the main active large-scale mines. The small-scale mining industry is reserved for Ghanaians.     
The Mining sector is important for the Ghanaian Economy
 The Mining industry of Ghana accounts for 5% of the country's GDP and minerals make up 37% of total exports, of which gold contributes over 90% of the total mineral exports. Ghana is Africa's number one exporter of Gold Overtaking South Africa in 2019 with 4.8 million ounces of output.  Gold is the country's number one foreign exchange earner and proceeds from Gold are a key contributor to the government budgetary allocations. Other commercially exploited minerals in Ghana are manganese, bauxite, and diamonds. Ghana has also discovered lithium in commercial quantities and hoping to attract investors mine and develop lithium processing.  While the bulk of Ghana's mining industry is in legally sanctioned mining by large enterprises, small-scale miners – many operating illegally – extract a large percentage of Ghana's resources. There are more than 20 big mining companies operating in Ghana from Canada to Australia. The country is also endowed with many more under-exploited deposits of iron ore, limestone, columbite-tantalite, feldspar, quartz and salt, and there are also minor deposits of ilmenite, magnetite and rutile.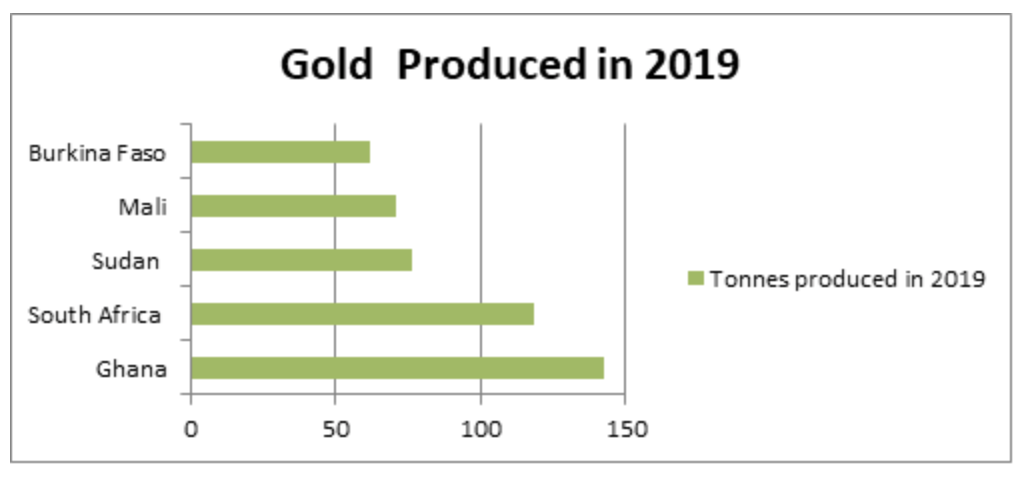 Source: Ns Energy, Top 5 Gold Mining Countries In Africa, 2020 
Adapting to new Environmental, Social and Governance Challenges 
 Mining in Ghana has had environmental impact on the country. Works of Artisanal or small scale miners have polluted the water bodies, According to the Director for Natural Resources at the Environmental Protection Agency (EPA),  Carl Fiati, if government does not curb illegal mining, Ghana may soon lose all of its water bodies and the country may have to import it drinking water. Farm lands are being lost to illegal miners who encroach on these lands to do their illegal mining.  Government is also facing stiff opposition from Civil society Organizations and some Ghanaians in their attempt to mine bauxite in the Attiwa Forest. Big mining companies are also finding ways to meet new global industry standard on tailings management and as well strengthen the governance of tailings facilities in Ghana.  

Source: ICMM Report, Mining in Ghana, 2015 
Dwindling Investment and diversification of the Mining sector (H3) 
Ghana needs to attract more investments into mining exploration not to lose out on its leadership position in the industry on the African continent. The President of the Ghana Chamber of Mines, Eric Asubonteng, said dwindling investment in exploration in the country's mining sector could take away the lead and trigger a downward trend in production within the next 10 years. Ghana now ranks fourth in the league of planned investments into mining exploration behind Cote d'Ivoire, Burkina Faso and Mali. Overall, planned investments in gold exploration projects in Africa fell from $615 million in 2019 to $590 million in 2020. Government is looking to diversify the mining sector move away from the overdependence on gold mining. Ewoyaa Lithium Project in Ghana , is set to be West Africa's first lithium producing mine and is fully funded to production under an agreement with Piedmont Lithium for $102m. A robust Scoping Study indicates Life of Mine revenues exceeding US$1.5bn 
Ghana has the benefit of significant natural resources, which make the country an attractive place for investment.  The development of new resources such as lithium, investment in industrial materials such as bauxite may also contribute to growth of the mining sector in the future. Government policy has largely focused on the formalization and modernization  of ASM and dealing with environmental issues like reforestation and land reclamation. Even though Ghana seen a decrease investment in exploration activities but appetite the world market has for manganese and bauxite, Ghana is in a strong position for future growth. 
For Convergence  
Agbota EDEM  
Commercial use of Minerals 
Retrouvez le site vitrine de Convergence sur http://convint.com
Inscrivez-vous GRATUITEMENT et augmentez vos chances de trouver le bon partenaire d'affaires, de bien recruter, ou de trouver la bonne opportunité professionnelle sur la verticale Afrique-Méditerranée-Europe sur www.convergence.link